WMMI MONTHLY SPEAKERS' BUREAU LECTURES
The monthly Speakers' Bureau Lectures, hosted by WMMI, are designed to inform and educate members and the general public on important subjects pertaining to the history and science of mining and industry.
Admission is always FREE to Museum members and just $5 per person for the general public. 
---
June 14: Brad Bowers presents STONE and CLAY - The Mining Environs of Stone City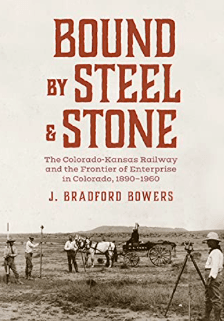 Stone and Clay: The Mining Environs of Stone City
Stone City is a largely forgotten ghost town in the in northwest Pueblo County, providing sandstone for construction around the country, and plasticine clays for firebricks. Brad Bowers will recount the story of Stone City and its environs, from its early days in 1912 as the destination for an interstate electrified railroad project, its connections with a large irrigation and real estate development project, to its final takeover by the US Army in the expansion of Fort Carson in 1964.
Biographical Information
J. Bradford Bowers has been fascinated by railroads since before his first birthday and his interest in history was kindled in third grade Colorado History.  He graduated with a BA in History from the University of Southern Colorado, now Colorado State University-Pueblo, in 2003 and an MA in History from Utah State University in 2005.
Brad has been teaching full-time at Pueblo Community College since 2011, where he continues to spread the wonders of Colorado History to his students, and is PCC's Faculty of the Year for 2021.
Bound by Steel and Stone: The Colorado-Kansas Railway and the Frontier of Enterprise in Colorado, 1890-1960 is his first published book.
May 10: Barry and Joan Currie present Ghost Towns, Mining Camps and More off the Beaten Track Adventures
April 12: Troy Zellers of the Wilfley Company discussed the history, current influences and future vision of the Wilfley Company.
March 15: Steven Veatch presented "Things Left Behind: An Intimate Time with Spencer and Julie Penrose"
February 22: Blake Wilson presented the Art of Harvey Otis Young (Exhibit open until June 25)
On Tuesday, February 22nd Mr. Blake Wilson presented a fascinating history of the artists of the late 1800's and their western movement, including Harvey Otis Young.  We learned about vibrant art scene of the time and the drive for capturing the beauty of the west. Following the discussion, the audience explored the exhibit space and spent time with the collection on display.  A video of the event is available HERE or the button below.
 "The Art of Harvey Otis Young" features 16 paintings from the museum's art collection. Young, born in New Hampshire in 1840, was a largely self-taught artist who started painting landscape scenes in California in the 1860s after unsuccessfully searching for gold. Young was a keen observer of current painting styles and adapted them in his own work, which was also influenced by his travels to Europe.  Young moved to Manitou Springs in 1879 and resided there for a few years, then moved to Denver, and finally to Colorado Springs in 1899. He died in 1901 and is buried in Evergreen Cemetery. The paintings in this exhibit were executed by Young between the late 1870s and 1901 and reflect his maturing skills.
(Blake Wilson is a partner in the Art Bank and Oriental Rug Center. (https://theartbank.com) in downtown Colorado Springs.  He has been an instructor, guest lecturer and speaker at many academic and non-profit organizations throughout the region.  Blake has served as a member on several organizations' Board of Directors in the community including The Colorado Springs Fine Arts Center at Colorado College.)
Video courtesy of Dylan Saliba   http://dylansunshinesaliba.com
All photos courtesy of  John Mortland Photography https://www.johnmortland.com/
Harvey Otis Young Exhibit Opening
---
---
2021 Lectures
March 2021:  Dr Richard Sauers "The Rehabilitation of the 1890's Reynolds Ranch Farm House"
April 2021: Mr Conrad North, "Ready, Set, Glow"  The opening of WMMI Fluorescent Mineral Exhibit
May 2021: Ms Kaitlyn McGann, "Egyptian Mining"   (To watch, click here)
June 2021:  Mr Steve Veatch, "The Story of Gilman"
July 2021:  Dr Richard Sauers, "Some of the Hidden Stories of Cripple Creek"
August 2021: "From Comstock to Caribou"
September 2021: Dr Karin Larkin, "The Archeology of the Ludlow Massacre" The opening of Temporary Exhibit
October 2021: Ms Julie Haverluk, "Fox Farming in El Paso County"
November 2021: Mr Richard O'Meara of Orica, "One Blast, One Chance for Success"