Miners' Pumpkin Patch Fundraiser: Saturdays in October
Thank you so much for supporting WMMI and the Miners' Pumpkin Patch! We will return in October of 2023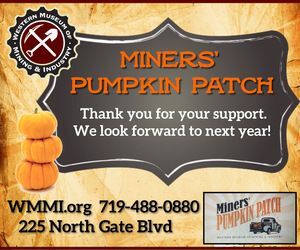 The Miners' Pumpkin Patch takes place Saturdays in October. 
---
Miners' Pumpkin Patch Games Area includes:
Giant Checkerboard, Battleship, Jenga, Tic-Tac-Toe and more. 

Cornhole, Ladder Ball, Tetherball and family games. 

Kids Hay Maze and Hay-Mountain Slide and Corn Bins.

Animal Encounter Area (presenters vary--Petting Zoo, Miniature Ponies etc) 

Sack races and hands-on activity corner.  

Vintage Apple Cider Press. 

  (Demonstrations at 10:30am and 1:30pm)

and...The amazing PUMPKIN PATCH with Pumpkin Smash and Catapult.
Miners' Pumpkin Patch Historical Area includes:
Machinery Demonstrations including Osgood Steam Shovel, Air Trammer and Mining Mucker (Demos at 11am and 2pm)

Gold Panning at our Outdoor Troughs

Tractor Pulled Hayrides

Watch Blacksmiths work in our authentic Blacksmith shop (top of the hill, 10am - 2pm)

Visit the Yellow Jacket II Stamp Mill
Miners' Pumpkin Patch Corral Area includes:
Food Trucks for meals, ice-cream and treats 

Picnic area under the trees or inside the historic Reynolds Hay Barn

Family friendly music

Farmers Market with creative, local vendors and artisans (participants may vary each week)
Thank you for supporting the WMMI Fall Fundraiser
__________________________________________________________________________________________
ONLY SERVICE DOGS ALLOWED.  Thank you for understanding-please keep your pets at home.

No Alcohol allowed.  No Smoking or Vaping allowed.

Please drive slowly and follow the directions of our volunteers. 

Activities subject to change
_________________________________________________________________________________________
---
Thank You for the generous donations from these companies who helped underwrite our Miners' Pumpkin Patch
Miners' Pumpkin Patch Donors
---
Join us for Fall Fun with Family and Friends!
Watch Machine Demonstrations
---
Food Trucks & Treats! (or bring your own picnic) Participants may vary
Food Trucks, Treats & Delicious Local Foods
---
Frequently Asked Questions
I see purchasing your ticket in advance is cheaper than at the door, why is that?
We want to encourage folks to purchase your ticket in advance so we can get a better count of how many guests (make sure we have enough pumpkins, and our food vendors can plan for food).  Plus, it helps us to make sure we are keeping room for everyone to be safe and have enough space.  The online ticketing program asks you to select Morning or Afternoon to help us gauge traffic flow, but your tickets will be accepted any time during the day.  Thank you for reserving your spot in advance!
***If you find you cannot make the day you purchased, please call 719-488-0880, we can help move your date to a future day.
Are pumpkins included in the cost of our ticket?
NO.  Pumpkins are a separate purchase.  You may enjoy our Miners' Pumpkin Patch WITHOUT purchasing a pumpkin, OR you may purchase as many pumpkins as you would like.  If you purchase pumpkins online in advance, you will receive a "token" at check in to redeem for the pumpkin of your choice. 
Please keep in mind, prices may fluctuate later in the season due to variations in market prices.  (Pumpkins are priced $1 less if you purchase ahead online)
Is Museum admission included in our ticket?
Museum admission is extra...but as our thank you for supporting WMMI at the Miners' Pumpkin Patch, we will give you a "Buy One Get One Free"  Offer to the museum to use THAT day, or another day of your choice.  Thank you for supporting your local, non-profit museum. 
How long should we plan to stay?
That depends!  There are lots of games and activities, and opportunities for exploring our 27 acre campus.  Make sure you take some photos, maybe get lunch,  or a treat.  Or, if you just want to grab your pumpkin and go...you can do that too!  (But we would suggest you plan about 2 hours for the outdoor events, machine demonstrations and gold panning) 
Will we need additional money?
Your admission gives you full access to all games and demonstrations.  You may purchase your pumpkins in advance and you will receive a token to use to "pay" for your pumpkin.  You CAN absolutely enjoy a full day and leave without spending any additional money.
However....we do have food trucks, face painters, and a farmers market that would all require additional purchases. If you want to stop in our Museum Rock n' Gift Shop, that is open.   If you want to purchase additional pumpkins or gourds...or if you want to catapult or smash your pumpkin, that would be an additional donation as well.  Credit Cards are accepted as well as cash.
Thank you for your support, this is our primary fundraiser of the year. We do appreciate our community!
Can we reserve a time for our team or group?
Yes you can!!!  Contact Jaime for full details---the Pumpkin Patch makes a GREAT group event!  719-488-0880 or Rentals@wmmi.org
---
if you have any other questions, please feel free to call the museum at 719-488-0880  or email Jackie at info@wmmi.org