---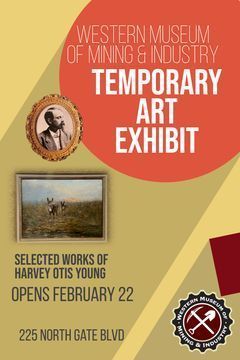 WMMI Temporary exhibit Open February 22 - MAY 30
"The Art of Harvey Otis Young" features 16 paintings from the museum's art collection. Young, born in New Hampshire in 1840, was a largely self-taught artist who started painting landscape scenes in California in the 1860s after unsuccessfully searching for gold. Young was a keen observer of current painting styles and adapted them in his own work, which was also influenced by his travels to Europe.
Young moved to Manitou Springs in 1879 and resided there for a few years, then moved to Denver, and finally to Colorado Springs in 1899. He died in 1901 and is buried in Evergreen Cemetery. The paintings in this exhibit were executed by Young between the late 1870s and 1901 and reflect his maturing skills.
Admission to the Special Temporary Exhibit is included in your regular admission.  Museum Members are free.
WMMI is open Monday – Saturday, 9am – 4pm.  For more information on the museum's exhibits and programs, visit www.wmmi.org, or call 719-488-0880.