Art and Science of Mining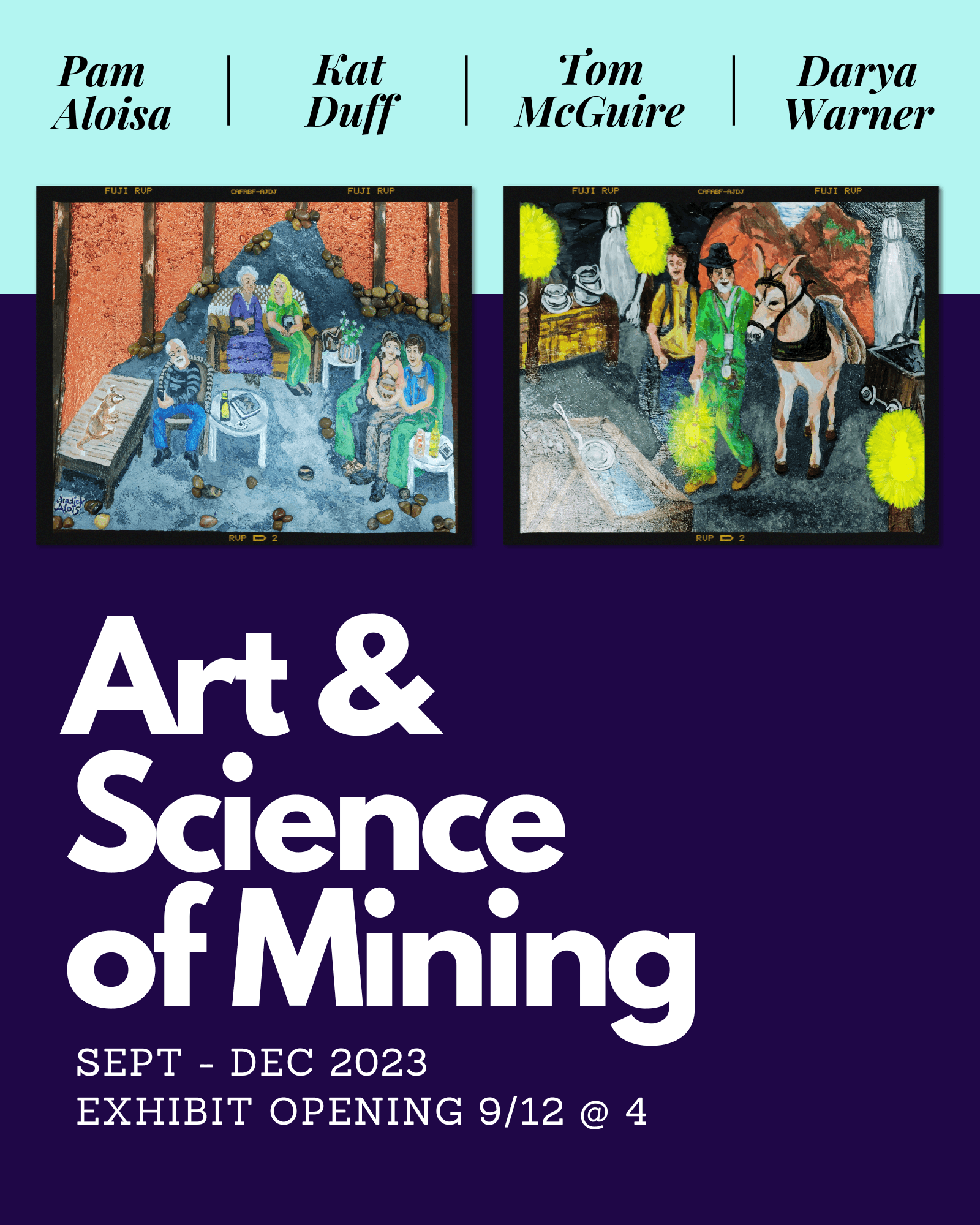 Art and Science of Mining
The Western Museum of Mining and Industry's rotating exhibit is hosting The Art and Science of Mining from September 12 until December. This exhibit showcases artworks that draw inspiration from the mining industry. Visitors can see the exhibit with regular museum admission. The artists will also talk about their work and the historical and scientific aspects of the mining industry that influenced them at the exhibit opening event, which is part of the museum's monthly lecture series.
About the Artists:
Pam Chadick Aloisa: Pam has been an artist for years and since 1981 her works have been exhibited in numerous juried, invitational, and solo exhibits regionally, nationally, and internationally.  Pam got BFA, MA, and MFA degrees in art and taught painting and art for the last 31 years at the Air Force Academy. She retired recently and is working as a professional artist. She's contributing to the Art Community, Keeping Art Alive! Her paintings being shown in the exhibit show an excellent arrangement of the art she works on regularly: different sizes and different themes.
Kat Duff: Kat is a burgeoning artist residing in Colorado Springs, CO. Her paintings are a blend of traditional techniques, texture, and organic elements. Her artworks being shown in this exhibit utilize symbolism, natural components, and historic documentation to remind viewers of the tragic fates met by many of Colorado's miners. Her inspiration for these pieces came after visiting historic cemeteries in Colorado and seeing headstones for men killed in mining accidents. The archival integrants in her artworks provide an abundance of history while seamlessly transforming the statistical information into creative art.
Darya Warner: Darya works at the intersection of art and science by bridging the creative process and growth/connections with human and non-human actors through the prism of Climate Change. By addressing site-specific history, ecology, and local systems of communication Darya aims to mine a new form of hybrid space for "intermatter" interaction with an emphasis on the interconnectivity of intelligence across species. Their research explores the Biophilia Hypothesis, also known as "the love of all living things," as a crucial factor in reconnecting humans and nature via interactive installations, visual displays, photography, sound, time-based media, and bioart in the new form of hybrid matter based on care. They address issues of environmental impact among artists and connect creative processes to earth-conscious practices. Darya is an educator, and they are implementing sustainable art practices methodology as a part of the educational curriculum. Darya graduated from the School of Visual Arts (BFA) and got their MFA from University at Buffalo. They have exhibited nationally and internationally, including in NYC, Denver, Albuquerque, LA, Miami, India, and Germany, and received multiple grants to support their projects. Darya teaches photography and art+science collaborative practices at the United States Airforce Academy, Colorado.  
Website : www.daryawarner.com
Tom McGuire: Tom McGuire is a professional photographer. His context photography explores how the scars of mining and industry have left an imprint on the American West.
---
The exhibit is available for viewing from Sept 12 through December and is open whenever the museum is open.  The special exhibit is included with your admission.  Museum Members are FREE.
WMMI, Colorado Springs, is open Monday – Saturday, 9am – 4pm.  For more information on the museum's exhibits and programs, call 719-488-0880. 
If you would like to pre-purchase tickets for the museum, click here. WMMI Museum Tickets