---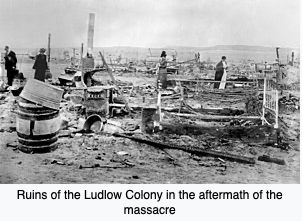 2021, 14 September - 31 December
The massacre of striking miners and their families at Ludlow, Colorado, on April 20, 1914, made newspaper headlines worldwide. Coal miners had gone on strike in September 1913 to protest unsafe working conditions, long hours and low pay, and non-compliance with state mining laws by several coal mining companies, including Colorado Fuel & Iron and Victor American Fuel Company. Miners and their families established a number of tent colonies; Ludlow was located twelve miles northwest of Trinidad. Gunfire between strikers and state militia troops took place on April 20 and resulted in more than twenty deaths. The camp was overrun and burned by the troops. In the long run, the terrible calamity at Ludlow led to federal and state legislation designed to address the complaints of miners against their employers.
This exhibit is curated by the Department of Anthropology at the University of Colorado, Colorado Springs. With the permission of the United Mine Workers of America, the UCCS department, and in conjunction two other universities, they performed archaeological digs at Ludlow that helped to answer a number of questions about the site. Using storyboards, artifacts from the camp found by the department students and professors, and artifacts from the museum's collections, Killing for Coal tells the Ludlow story.
Thank you to Dr Karin Larkin , Assistant Professor and Curator of Anthropology at UCCS. who opened our exhibit with a fascinating lecture. Her students, (Spring  Semester 2021), wrote the text for this exhibit and assembled the images and artifacts, with assistance from staff at WMMI. The exhibit will close December 31, 2021.
The Killing for Coal special exhibit is publicly accessible during the museum's normal business hours of 9am-4pm Monday-Saturday. (or holiday hours as noted...December 24 close at 2pm.  December 25 Closed.  December 31 close at 2pm)   Regular museum admission rates apply.
Photo is available from the United States Library of Congress Prints and Photographs division under digital ID ggbain.15859. Public Domain File: Ruins of Ludlow restored. created 1 January 1914